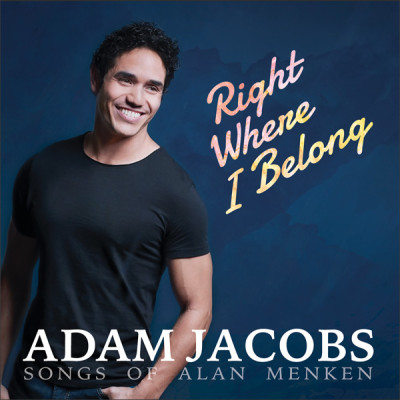 Adam Jacobs, who is currently starring as "Aladdin" in Disney's Aladdin on the national tour, has released his debut solo album entitled "Right Where I Belong", a compilation of Alan Menken songs including well known tunes such as "Proud of Your Boy" (Aladdin), "Go The Distance" (Hercules), "Santa Fe" (Newsies), and "Suddenly Seymour" (Little Shop of Horrors in duet with Arielle Jacobs) as well as a few lesser-known melodies from Menken's earlier works. Describing his motivation for producing the album, Adam says, "I've always loved the clarity of storytelling within Alan's music. All the songs in my album carry that power with them, the power to transport the listener and take them on a hero's journey. The variety of styles on this album not only makes it fun to listen to I think, but also illustrates just how incredibly talented Alan Menken truly is as a composer."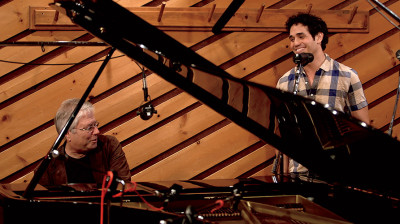 Adam Jacobs in the studio with Alan Menken
Right Where I Belong is now available digitally on iTunes, CDBaby, Spotify, Google Music, and Amazon.  Music direction and arrangements for the album were provided by James Abbott.  Allan Detsky and Adam Jacobs are the executive producers.
Available for purchase from





For the last five years Adam Jacobs and I have shared the most incredible journey; bringing an animated character who is so close to my heart to life on a Broadway stage. And every step of the way I have been taken by Adam's brilliant musicality and exciting stage presence as our Aladdin. Now, along with the rest of the world, I have the privilege of hearing an album's worth of my songs, drawn from all kinds of diverse sources and moments in my composing career, brought fully to life by this amazing and talented young man. I hope everyone will find this experience as richly rewarding as I do.
– Alan Menken